Written by Brett Parsons,
HOW 'BOUT THOSE CUBS!!! ANOTHER NORTHSIDE EXPLOSION TO WIN & WIN THE SERIES! EVEN SWEETER, THE CUBS KNOCK THE SOX DOWN TO 3RD PLACE & TWINS WIN THE AL CENTRAL!
Cubs even beat the Sox in Game 7 of the World Series, 2005 Sox vs 2016 Cubs simulation game!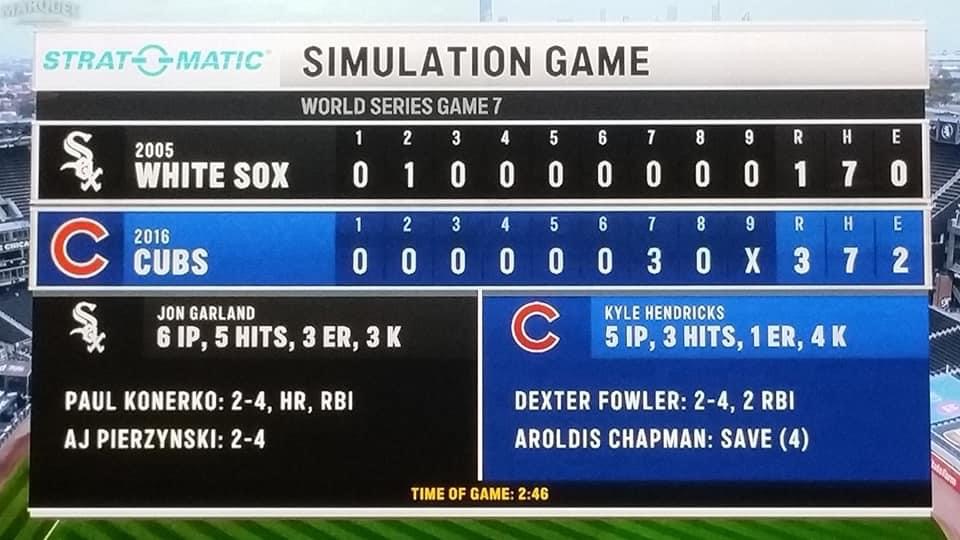 Cubs Manager David Ross sat a few of starters in the season finale & those bench players produced! Cubs KO'd Sox starter, Reynaldo Lopez, in the 2nd. After an impressive 1st by Lopez, 2K's & a ground out, it unraveled for him in the 2nd. Cubs batted around starting withKB 2 Chainz hitting a leadoff HR, Baez K, Caratini singled to RF, Mr. Clutch David Bote takes the first pitch over the LF wall for a 2 run HR! 3 straight walks to Kipnis, Nico, & Hamilton. Maybin lines a single to CF scoring Jason Kipnis & Nico, Hamilton to 3B. Pitching change- Rodon replaced Lopez. Before Rondon makes his first pitch to Schwarbs he throws to 1B where Maybin & Hamilton double steal. Maybin took off first on the throw to Abreu. Once Abreu threw to 2B, Hamilton took off for home. Anderson didn't even try to tag Maybin, he threw home & Hamilton just snuck in under the tag. Schwarbs got hit by the pitch, KB popped out in foul territory, Baez K to end the inning- 6 Runs!!
Hamilton killing it in his rare start as he added a solo HR to his day to the LF seats in the 4th. He continued in the 7th with a single to CF. He stole 2B & it was a wild pitch so he advanced to 3B. Maybin K, Schwarbs walked, KB hit a grounder to the pitcher, Cordero. He knocked it down, but a bad throw scored Hamilton & Schwarbs & KB ended up at 3B. KARMA! That's what you get for hitting Willie Friday night. Baez singled up the middle scoring KB for the final Cubs run. Alzolay was brilliant!! 5IP, 8K, 2BB, 2H, 1ER, 1HR, 82 Pitches. The future of the rotation looks good!! He kept the powerful Sox bats silent until the 5th when Engel hit a solo HR.
Quintana replaced Alzo in the 6th & pitched 2 scoreless innings.Before the game, Cubs brought in top prospect Brailyn Marquez & DFA'd 1B Pat Wisdom. He made his MLB debut in the 8th. This kid has an arm & he's a lefty!! The future of the rotation really looks good!! Although, he did get rocked for 5 runs, but the butterflies had to be in overdrive. A little more seasoning in the minors & this kid should be awesome! Underwood replaced Marquez to get the final out of the 8th, but gave up a run before he did. He also gave up a 2 run HR to Grandal in the 9th. He got the next 2 outs, but gave up a single to Robert. That would be it for Underwood as The Sheriff, Chafin, came in & struck out Mazara to earn his first save with the Cubs. What a crazy 2020 season!!! 60 game season!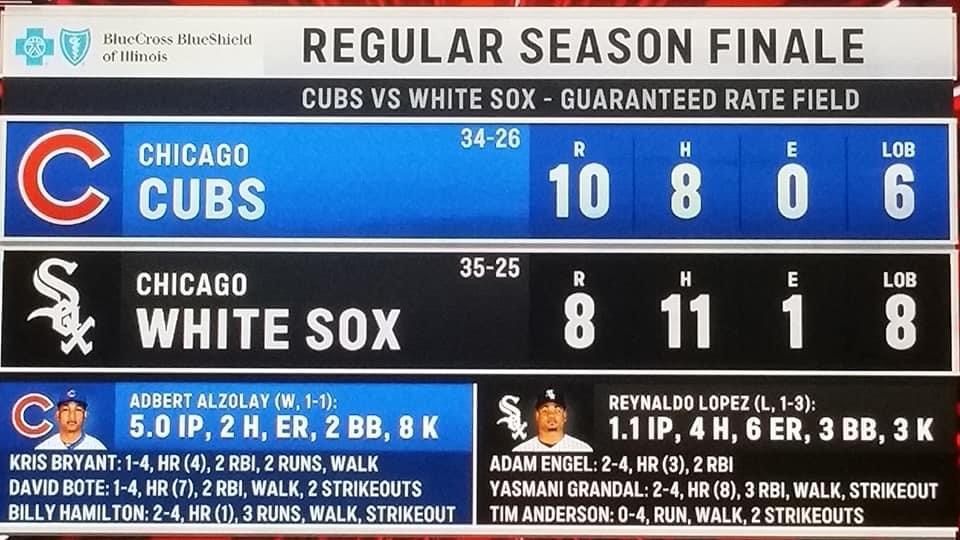 I never thought we would have baseball this year, but we did. Some crazy changes, too. Expanded playoffs, DH in the NL, relief pitcher's must pitch to 3 batter's, & putting a runner at 2B to start extra innings. It'll be interesting to see what MLB does next season, do they keep the changes, tweak it, or dump them? Let's worry about that later. We have Cubs playoffs up first!!Best of 3 series vs. Marlins at Wrigley Field. Game Time- 1pm CT.
LET'S GO CUBS, LET'S GO CUBS, LET'S GO CUBS!!!!!