Written by Brett Parsons
AS HARRY WOULD YELL…
CUBS WIN, CUBS WIN, CUBS WIN!!!
DARVISH WASN'T GREAT, BUT SOLID PERFORMANCE!
OMG, was this game played in slo-mo?! Over 4 hour game. Don't they know that Game 5 of the Blackhawks game is on tonight!?! 😂

Darvish seemed to get into trouble often tonight. He only had 1 easy inning, the 6th his last. The DP was his best friend. He got one in the 2nd to end the Cards threat & another one in the 3rd to end that threat. In the 4th, Cards had the bases loaded with no outs. Darvish got out of that jam as Carlson bounced into a force out, back to Darvish to Caratini getting Goldschmidt at home. Fowler K, & Wieters flies out to JHey to end the threat.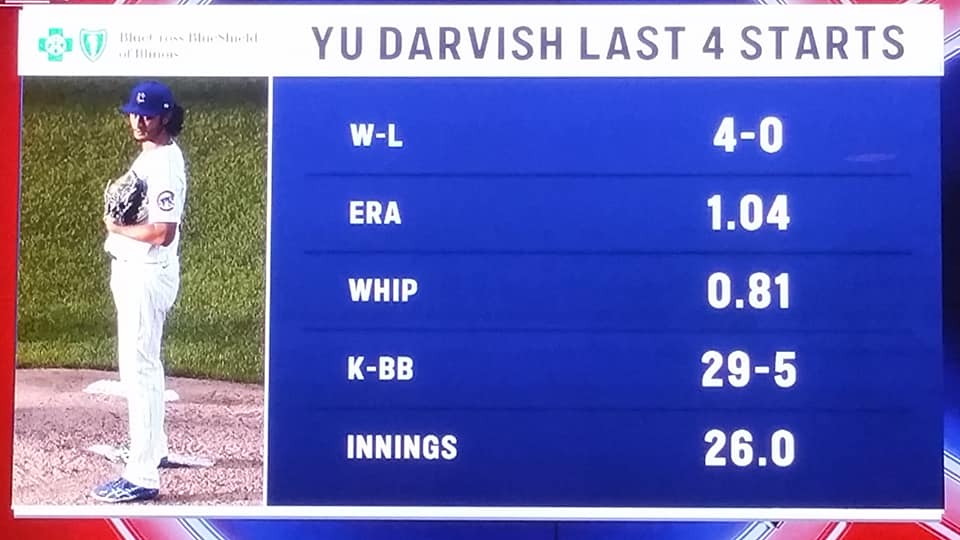 Sadler replaced Darvish in the 7th, 3 up, 3 down. But he walked 2 in row in the 8th. Sadler out, Winkler in. On his first pitch, Carpenter singled to RF, Edman scored. Miller walked to load the bases. Cards hit into their 3rd DP as Carlson hit a grounder to Bote-Baez-Riz, Goldschmidt scored. Fowler got hit by the pitch & that would end Winkler's night. Wick came in to get the last out in the 8th & pitched a 4 up, 3 down 9th to earn his 4th save.
Cubs bats struggled early. Happ with a leadoff single to start the game, but Riz, Baez, Schwarbs all go down swingin'! Hot hitting Happ gets his & Cubs 2nd hit, a Lazer Shot to the leftcenter field bleachers. 

4th inning, Cubs scored again. Willie walked & JHey ripped a triple down the RF line scoring Willie. Cubs take the lead for good as they score twice in the 5th. Baez leadoff double, 3-2 count to Schwarbs he took the 6th pitch & launched it into the RF bleachers!! They scored 2 more insurance runs in the 7th. With 1 out, JHey & Bote singled & Caratini followed with a double high off the RF bricks, JHey scored. Kipnis with the sac fly to RF, Bote scored the final run.

Another Twin Bill tomorrow! Alec Mills pitches Game 1, no pitcher announced yet for Game 2. Mills has been impressive so far, hope it continues. Game Time: 1:20pm CT