Written by Brett Parsons
CUBS WIN, CUBS WIN, CUBS WIN!!! THAT'S MORE LIKE IT!!
CUBS HANG ON TO WIN GAME 2 OF THE TWIN BILL & END THEIR 4 GAME LOSING STREAK!!

2020 Covid Baseball, when was the last time you seen the home team be the visiting team? Crazy! This game was one that was postponed & since the Cubs don't visit St. Louis again this season, the Cards were the home team & batted last. This was a game of who had the best bullpen! At first it looked like the Cards, but it would be the Cubs in the end! 

Tyson Miller made his MLB debut & it wasn't too bad of a performance. He probably had plenty of butterflies. He had a decent 1st, but in the 2nd he walked Carpenter & on the first pitch to Miller, he hit the fastball to the CF bleachers for a 2 run HR. Tyson finished the inning, but was done for the night. Tepera pitched a 3 up, 3 down 3rd. All 3 Cards hitters go down swingin'! 

Ryan pitched the 4th & wasn't good. He got the first out, but then the Cards go back to back HR's. Miller hit another HR. Who the hell is this Miller kid? He hit the game winner in game 1 & 2 HR's & 3 RBI's in game 2. Schrock then hit his 1st career MLB HR. 

Ryan got Knizner swingin' , but then gave up back to back singles. That was the end of Ryan as Underwood came in to get the final out of the inning, striking out Carlson. He continued with a scoreless 5th. 
Winkler pitched a scoreless 6th. He walked Miller, Wong popped out, & Knizner grounds into a DP. 

New closer, I guess, Jeffress Express pitched 3 up, 3 down 7th to end it & earn his 2nd save. Cubs offense was again anemic. AGAIN, ONLY 3 hits! But 2 was all the Cubs needed! 

1st inning was another blown big inning. Although, they did score 1 run. KB K, Riz walked, Baez K, Schwarbs & Willie walked. With Happ up, there was a pass ball scoring Riz. Schwarbs was thrown out trying to score also, that ended the inning. Cards had a no hitter going thru 5. Willie broke it up in the 6th with a double scoring Baez that was hit by the pitch. Happ sac bunt, Willie advanced to 3B. JHey walked & Super Clutch Bote, took the fastball right down the middle out to CF bleachers for a 3 run GAME WINNING HR!!!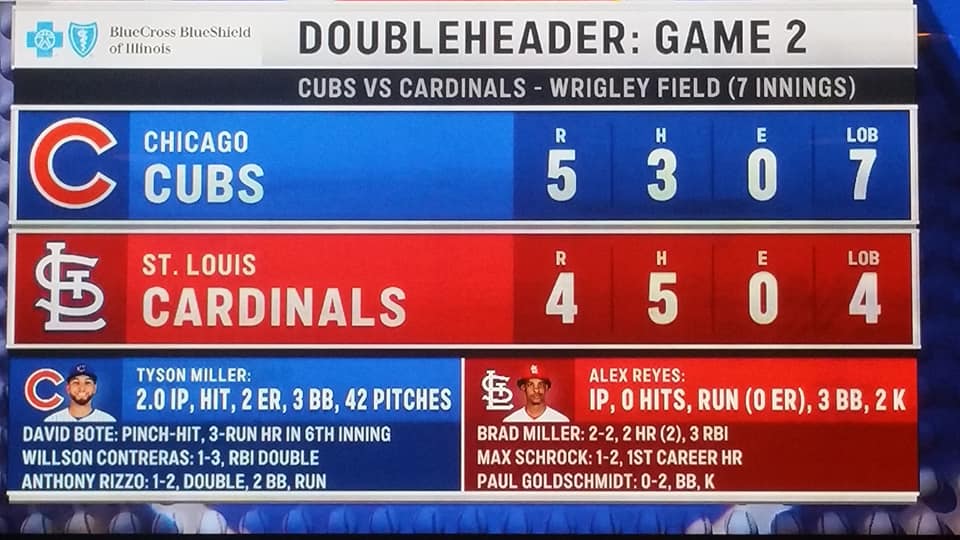 It was 2 years ago when Bote hit the Walk-off Grand Slam vs Nats.
Darvish goes tomorrow night. Last year the Cards owned Darvish as he went 0-2 with a 4.07 ERA in 4 starts. This is a new season, so lets hope he copies his last start when he struck out 11 Brewers.
Game Time: 7:15pm CT.