Written by Brett Parsons
CUBS WIN, CUBS WIN, CUBS WIN!!! 3 STRAIGHT W's!!!
DARVISH DEALIN'!!!
Not too much offense, just enough. Cubs didn't need it with Darvish on the mound tonight. He got his revenge after the Brewers knocked him around in 2nd game of the season. Darvish was on fire! 7 BRILLIANT innings! Mixing in all 11 pitches, he had a no- no going into the 7th. Smoak broke up the no hitter with a solo HR. Sadler took over in the 8th. He gave up a leadoff single to Arcia, but that got erased as Holt grounds into a DP! 
Wick comes in to nail it down. Hiura flied out, Yelich ground out to Bote at 3B. The shift was on & Bote had to go hard to his right & throw on the run to get Yelich at 1B, Sweet play! Arcia singled & Smoak drove him in on a double. Game tying run at the plate, but Wick got Narvaez to fly out to LF to end the game. 

KB was scratched due to wrist soreness from that diving play he tried to make in yesterday's game. Its been awhile since the Cubs scored in the 1st. They did it tonight as Nico led off with a double. He advanced to 3B on a Riz ground out & scored on a Baez ground out. They add another run in the 2nd on a leadoff solo oppo SCHWARBOMB!!!

They add a couple of insurance runs in the 6th. Willie walked, Schwarbs lined out, red hot Happ doubled scoring Willie on a close play at the plate. Bote rips a single to LF scoring Happ. That would end the Cubs scoring for the night. Riz struggled striking out twice, but once with the bases loaded to end the 6th.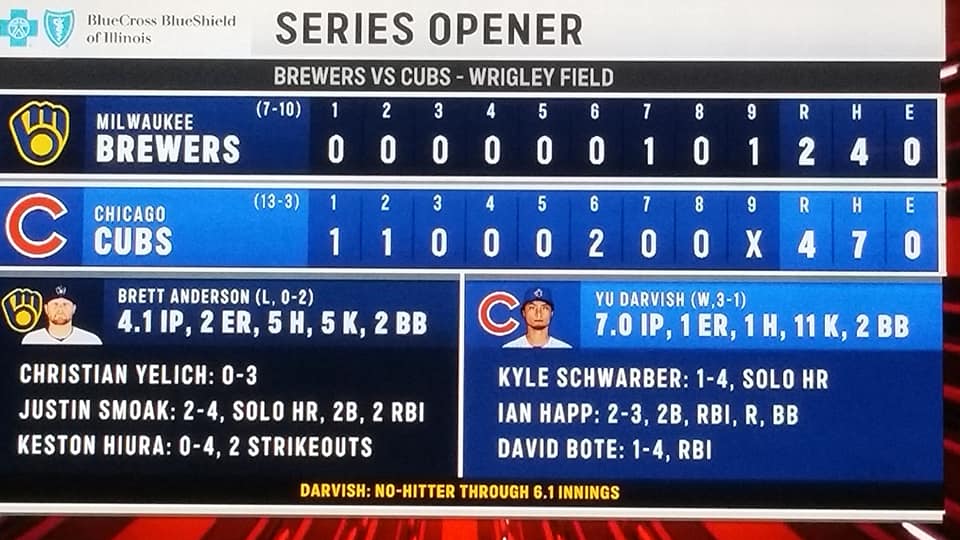 Chatwood is back on the mound tomorrow night. What Chatwood will we see, the one that started on fire or the one that got roughed up in his last start, giving up 8 runs on 11 hits in 2 innings. Stay tuned…
Game Time: 7:15pm CT