Written by Brett Parsons
CUBS WIN, CUBS SWEEP THE TRIBE!!!
WOW, THIS IS FUN!! 12-3!! BEST START SINCE 1970!
JHEY STAYS HOT!
The Professor with another quality start going 6 strong innings. His changeup was nasty!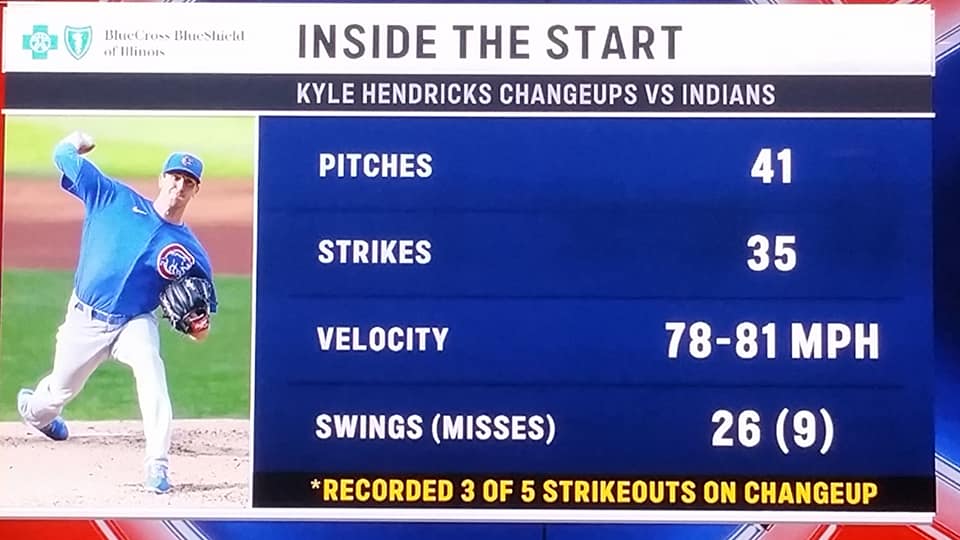 Hasn't been the best road pitcher, but making his first appearance in Cleveland since his start in that HISTORIC World Series Game 7 Cubs WIN, he pitched like it was Game 7 again! The Tribe only got 1 run off of him. That came in the 5th. He gave up back to back singles, Zimmer K's, & Hernandez singled to LF to load the bases. At first it looked like KB made a great diving catch but replay showed he trapped it. Ramirez hit a sac fly.
Winkler took over in the 7th & was a little shaky, 2 walks, 1K. Ross yanked him & Wick takes over. He gave up a RBI single to Lindor. A 3K 8th & Jeffress pitched a scoreless 9th, ending it on a DP.Cubs had a few scoring chances they blew. Leaving 9 on base & 2-12 with runners in scoring position, but still win!

Riz gets the boys in blue on the board in the 3rd with a leadoff lazer shot into the RF seats! Cubs pretty much end it in the 5th with a 3 spot. Riz & Baez with singles, Willie K's & is thrown out arguing the call by slamming his bat.

Carrasco gets the hook & Perez is in. He intentionally walked Happ to load em up. JHey with the sac fly to RF, scoring Riz. Baez & Happ advance to 3rd & 2nd. With 2 out & a full count, Bote rips a line drive single to RF scoring Baez & Happ.

After that diving try in the 5th, KB seemed to aggravate his wrist when he landed. Well, all is well as KB went KBOOM to the CF seats in the 6th! Cubs add 2 more insurance runs, 1 run each in the 8th & 9th. Kipnis with an RBI double in the 8th & JHey does the exact same in the 9th.
Darvish looks for revenge tomorrow night against the Brew Crew. He was pitching beach balls that day as the Brewers scored 3 & got yanked after 4 innings.

Game Time: 6:15pm CT on FOX