Written by Brett Parsons,
CUBS WIN, CUBS WIN, CUBS WIN!!!
FEELS SO GOOD TO SAY THAT AGAIN!
ITS BEEN AWHILE, 6 DAYS!!
BIG DAY FOR JHEY!!

After a 4 day layoff , or kind of an All Star Break, Cubs get back to their winning ways!! After a 13-2 shellacking by the Royals in their last game, tonight was a dominating game by the Cubs!

Big Jon was Big Jon once again, he carved up the Indians. Changing speeds, painting the corners, & getting ground balls for a solid 6 innings. Indians finally got to Lester in the 6th, but for their only run. After getting a fly out, he hit Lindor, Santana lined out to Happ in CF, but Reyes with a 2-2 count hit the fastball for an RBI double to RF. 

Tepera followed Lester & pitched a 3 up, 3 down 7th. Rea pitched the final 2 innings. 3 up, 3 down 8th & fairly easy 9th. He gave up a single to Reyes & Naquin reached on a KB fielding error, but Rea got the final 2 outs on fly balls.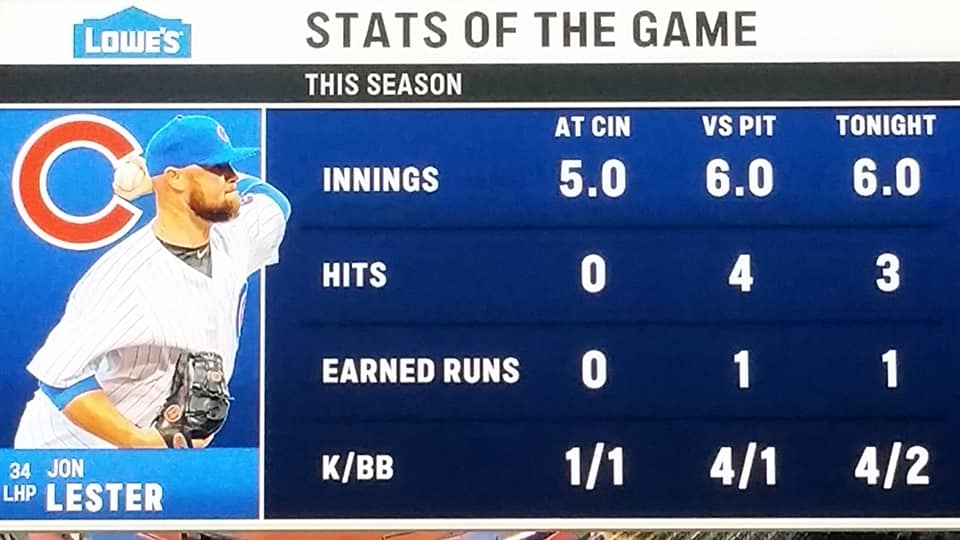 Cubs offense was JHey! He went 3/4 including a 3 run HR & 4 RBI's! He got them on the board in the 2nd. Schwarbs K's, Willie singled to LF, Happ walked, & JHey singled straight up the middle scoring Willie. JHey kicked the door down in the 6th as the Cubs put up a 5 spot. 

KB led off with a walk, Rizzo flied out, Baez singled, Schwarbs got hit by the pitch to load em up. KB scored on a Willie deep fly out to CF. Newly annointed starting CF, Happ singled to CF & Schwarbs scored. JHey put this one to bed with a 3 run HR to RF seats! Cubs add an insurance run in the 7th. Ex-Indian, Kipnis, walked, KB gets hit by pitch, Rizzo grounds into a DP, Kipnis goes to 3B & scores on a wild pitch by Allen. 

The Professor goes for the sweep tomorrow night. He went a solid 7 in his last start against the Royals. He hasn't faced the Indians since that HISTORIC, EPIC Game 7 of the 2016 World Series.
Game Time: 5:10pm CT