Written by Bruce Weirauch,
May 28, 1960 The Chicago Cubs and Los Angeles Dodgers go 14 innings before the Cubs get the walk-off victory. Sandy Koufax of the Dodgers pitches 13 innings, leaving in the 14th inning after walking the first 2 batters of the inning. In those 13 innings, Koufax allows just 4 hits, strikes out 15 Cubs batters but also walks 9 batters. Frank Thomas ties the game 3-3 with 2 outs in the ninth inning to send the game to extra innings and Don Zimmer's walk-off, bases-loaded, RBI single is the walk-off hit for the Cubs as they defeat the Dodgers 4-3 at Wrigley Field.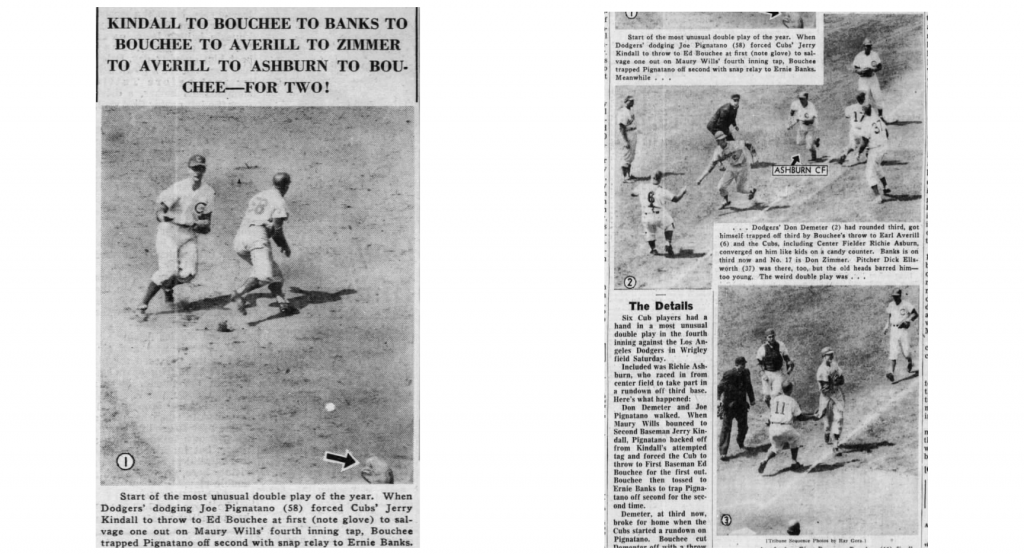 The 1960 Cubs were an interesting blend of players, Hall of Fame Shortstop and Illinois native, Lou Boudreau managed the team for most of the year. The 60 Cubs also had future HOF'ers Richie Ashburn and Ernie Banks, and Ron Santo would make his debut later in the season. Moe Drabowsky was a Jew who was born in Poland. His family was able to flee Poland in 1938 and settle in the U.S. He would later go on to win to rings with the Baltimore Orioles, as one of the mainstays of their bullpen. The 60 Cubs also had Jerry Kindall, who while at the U of at Minnesota, led his Golden Gophers to the NCAA Division I baseball championship; 20 years later, Kindall became the first man to win College World Series titles as both a player and a head coach. He is also the only batter to hit for the cycle in the history of the College World Series and was elected to the College Baseball Hall of Fame in 2007. Finally, future Cub Coach and Manager, Don Zimmer was also on the Cubs that year.