The Chicago Cubs hope to continue their offensive Chicago tonight against the Indians. Kyle Schwarber hit two of Chicago's four solo home runs during a 10-3 victory over the Cleveland Indians in the first meeting between the teams last night since their classic 2016 World Series.
"I like to think about the World Series, especially about all of the adversity we faced," Schwarber said. "That was the moment we all live for, and we want to get back to it."
"Just walking off the bus, into the stadium, you get a sense of nostalgia," he said. "The first thing I noticed when we got in the clubhouse was they replaced the carpet, which was nice. I think we messed it up pretty good. I was thinking about that great memory, walking around with my World Series champion shirt on."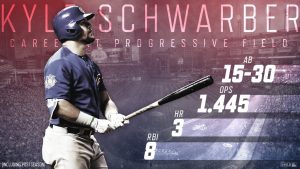 Kris Bryant remains out of the #Cubs lineup again today. He was hit in the head by a 96-mph fastball in Colorado on Sunday."He wanted to see the doctor and do all the normal stuff," manager Joe Maddon said. "I think he's fine. He just has to work through some things." Bryant's visit with a doctor was, in Maddon's words, about "validation."
"Getting hit in the head is kind of a traumatic experience, especially at 96 [mph]," Maddon said. "That's probably the first time that's happened to him." Bryant is hitting .319/.467/.536 (22-for-69) with two homers, seven doubles and 11 RBIs through 19 games this season, his fourth in the big leagues.
The teams complete the two-game series Wednesday night. The Cubs have won four of five and are two games over .500 (11-9) for the first time this season.